THROUGH RECENT HISTORY WITH MYRRH
These works were done when Myrrh was so moved by current events that she took time out from her works about science and patterns to do them.
The Lily-White Cocoon
Outside the South, discrimination in housing perpetuated the separation of blacks and whites. Whites were unaware they were living in a cocoon. Knitted in 1969, with the logo for the magazine House Beautiful on the case.
1966 – African Women
During the Civil Rights Movement, blacks developed an interest in Africa. Myrrh was helping in a black neighborhood where Mothers For Equal Education started Nairobi Day School in 1966. Myrrh painted this for them.
Later, the founder, Gertrude Wilks, spoke out against drug dealers. They burned down the building where this was hanging.
1969 – Poster
To benefit Nairobi School. It celebrates "Black is beautiful." Our culture was systematically denying that. You never saw black faces on TV. You never saw anything but white dolls.
1971, -73 – Peace Now! Poster
In 1964, LBJ made what had been a small effort in Vietnam into an all-out war. Nixon continued it in 1969. Myrrh made this woodcut poster in 1971 when peace protests had been unable to stop it. Two years later, Myrrh collaged the latest war news on it. Communist North Vietnam overcame the South, our ally, in 1975.
1973 – James McCord, Watergate
When the burglars at the Watergate Hotel were caught at Democratic Headquarters in 1972, they followed instructions to keep quiet about connections to the Nixon White House. One of the burglars, James McCord, squealed and blew the whole case wide open.
1984 – Graffiti
New York was nearly bankrupt and cutting expenses. Spray can graffiti done at night on idle, unguarded subway cars, was everywhere. Meanwhile, in the disintegrating Bronx, Hip Hop was being born.
1984 – New York Subway
Myrrh visited New York in 1984. Graffiti outside the trains could be entertaining. Inside the cars it felt like an invasion. This made the subway system seem like the intestines of the city. By 1988, it had all been cleaned up. The cleanliness seemed magical!
1983 – Nuclear Spring in Yosemite
"Nuclear Winter" was the result predicted in 1983 of in all – out nuclear war. Soot in the stratosphere could dim the sun enough to prevent plants from growing. Myrrh imagined the aftermath.
1985 – Peace Spreads like Wildflowers
In 1982, Justine Merritt conceived The Ribbon to tie a ribbon around the Pentagon. When Reagan called the USSR "the evil Empire" in 1983 fears about nuclear war escalated. Thousands sewed three-foot strips for The Ribbon. On the 40th anniversary of Hiroshima, they paraded 10 miles of them in Washington; on the same day, they encircled the monument in Hiroshima. Several women helped Myrrh embroider this one.
1985 – Don't Wait to Cooperate!
During Reagan's second term, the 1985 meeting with the new Soviet leader, Gorbachev, changed Reagan. He began working to reduce the threat of war – a bit. Today, his former Secretary of State, George Shultz, is a leader in the move to rid the world of nuclear weapons. 90% of them have been dismantled, but one is too many.
90% of stockpiles have been destroyed.
1980 – Civil War
The United States sided with the oligarchs in El Salvador's Civil War that flared in 1980, part of Reagan's anti-Communist strategy in Central America. Link to the No Puedo Decir Lo Peor drawings.
1987 – Oliver North, Iran-Contra
A major figure in the 1987 Iran-Contra scandal, orchestrating large covert operations in Central America, also Iran. Link to Iran-Contra: Three Plots in One.
1982 – Do-Gooder Cares
Homelessness spiked after drastic cutbacks that Reagan made to low income housing and a brief recession. Afterwards, we've never made housing the poor a priority .
1982 – Sleeps Eight
Concurrent with more homelessness, the ostentation of the rich grew, and stretch limousines became fashionable.
Myrrh knows three people who had to sleep in their cars.
1990 – Equitable
Already in 1990, Myrrh saw income inequality was an issue. (Inspired by the Equitable Building in Los Angeles.)
1990 – A Gated Community
In 1990, Myrrh did a series of cartoons about housing. Ironically, prison construction had ballooned.
1990 – My Home is Aloft (a Loft?)
Rents rose San Francisco, pushing out many artists. Myrrh knew several.
2002 – Where is Your Help?
After 9/11/2001, we pursued Al Qaeda into Afghanistan, making many rosy promises to Afghans. Myrrh made this drawing when Bush turned attention to invading Iraq.
2002 – War Will Boomerang
Before the Iraq War in 2003, Myrrh cut out 100 boomerangs and pasted them downtown in unexpected places. Does war boomerang? (Has "Israel's 1967 ' Six-Day' War ever ended?)
1983 – The Sky's the Limit!
As social programs were being cut in the 1980s, military spending shot way up. Meanwhile, the tottering USSR finally collapsed in 1989.
In 2014, for every dollar in taxes, we spend $.37 on the military, and $.15 on poverty problems.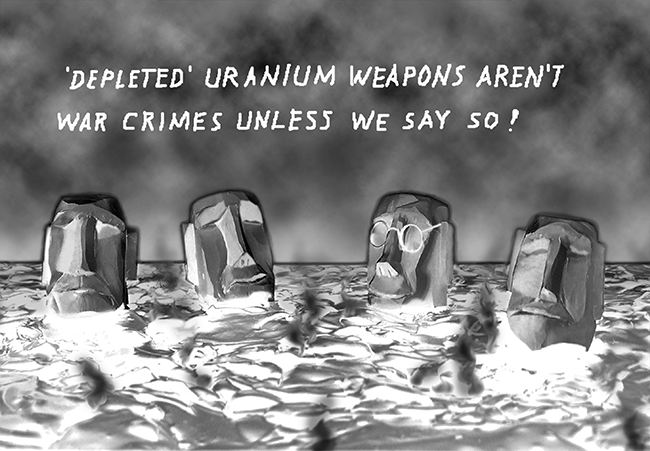 2004 – DU Weapons
First used in Bosnia under Clinton, "depleted" uranium, or DU, is a metal that pierces metal armor. It hits, it turns to dust, poisoning soil and lungs. Fallujah, Iraq, where DU shells were used in 2004, has at least 1100% the world average of birth defects in newborn babies, worse than Hiroshima.
Babies of US veterans are also affected. Because it is cancer-causing, the UN is being petitioned to ban it.
2004 - Abu Ghraib photos
After the initial shock of seeing photos of prisoners suffering gut-wrenching abuse, the public became numb. It takes some countries 30 years to come to terms with the ugly things its country has committed.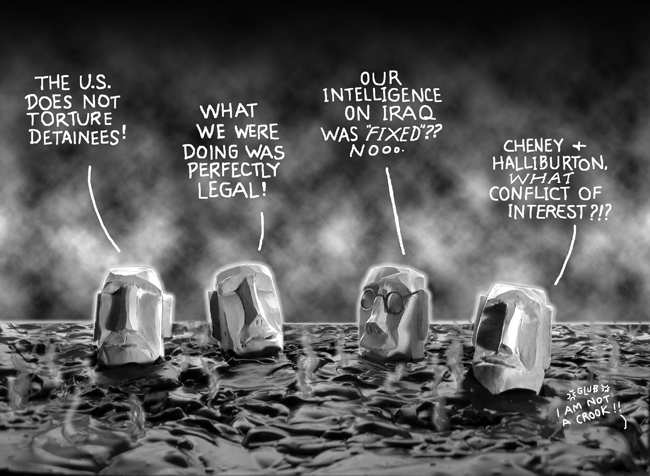 2004 - Iraq scandals
The reasons the administration told us for invading Iraq proved false. It deliberately skirted The Geneva Conventions re the treatment of war prisoners. Military contractor overcharging was horrendous.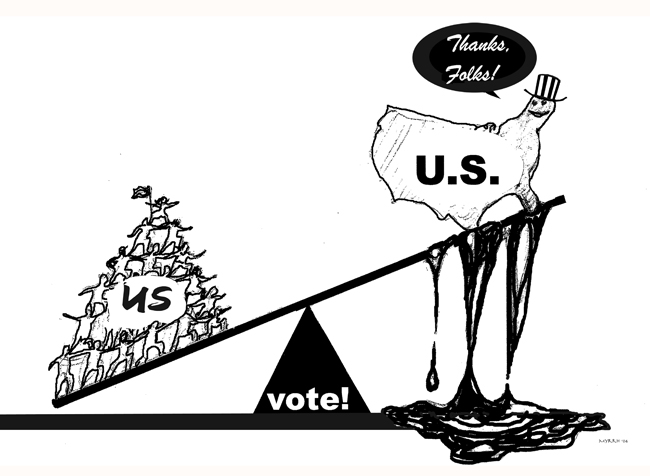 2004 – Vote!
Myrrh hoped voters were the leverage to reform the US Government. So many irregularities existed in the vote count in 2004, the final Electoral College vote was held up for 2 hours while Rep. Conyers and Sen. Boxer enumerated them.
2006 – Hurricane Katrina
Bodies floating in muddy water and a wrong-headed government response to Katrina looked like deep shit to Myrrh, who modeled it with chocolate pudding. The Talking Heads are made of clay.
2006 – Global Warming
An Inconvenient Truth, Al Gore's 2006 film about global warming, awakened the public—but not businessmen engaged in coal and oil production, nor their favorite politicians.
2006 – War and the Deficit
LBJ fought Vietnam on borrowed money. Years after, we suffered from inflation. Bush fought his wars this way, too. Cutting our deficit comes from the hide of ordinary people.
2006 – Quagmire: a bog where you can get stuck. That's how Iraq was going. (Was that war winnable? Is it won?
2003-12 – Iraq War and Oil
A review of our relations with the Middle East since 1930 find many other "actions to secure our energy supply," some quite awful.
2009 – Economic Meltdown
Suddenly, the consequences of risk and fraud at all levels, from house lending to low bank reserves hit at once. A fall in value made tax receipts go down, cutting the safety net.
2009 – The Golden Goose
Banks were bailed out, while bank lenders stonewalled homeowners needing help. Regulation reform has been feeble.
2013 – Massive Surveillance
Since 9/11, we have militarized our police, poured money into secret agencies spying on us, and acquired amazing tools to track us. Repeal those articles in the Patriot Act that permit this!
Watching Big Brother
Myrrh watches with sadness as we grow into a surveillance society. With a malicious government, it becomes totalitarianism.
1981 – Halfway House
Cutbacks in social safety net programs, begun under Reagan in 1981, continued under Clinton. In 2014, the Food Stamp program, the main recourse for families now that welfare programs are mostly gone, is being cut back, affecting 450,000 people.
To claim Market Forces, a man-made construct, does things like natural forces do is to dodge responsibility for fixing things.
2011 – The 99% Speaks
The Occupy Wall Street movement dispersed, but set the agenda: Reduce inequality. Productivity goes up when workers are not suffering from ill health, poor education, hunger, and worried about of losing their job and/or home.
2012 – Think Tank
Experts with high salaries are clueless. I'm privileged and secure. Even I'm clueless.